Beauty Purify 3-in-1 Facial Mask
$15.00
Net Content: 3.3 fl. oz (100 ml)
Beauty Purify is a true 3-in-1 product simultaneously serving as a Cleansing, Exfoliant and Facial Mask. Beauty Purify is an authentic facial beauty set, which combines all the properties of the Andean Rosehip with the effects of Aloe Vera.
In addition, it contains essential supplements such as Group B and E vitamins, Retinol and vegetable extracts. Because of its peeling and exfoliating effect from its peach grains, you will notice excellent results and a great difference since its first use.
Beauty Purify leaves your skin free of impurities and blackheads in just one application, making your skin feel clean, soft, and moisturized.
This UNISEX product is ideal for all skin types, including adolescent ones suffering from acne. Ideal for use before facial creams, it is recommended it be used once or twice a week, as you deem necessary.
What used to be beyond reach for many is now accessible to all because of the reasonable prices Pell Bella offers. The gift of Luxury.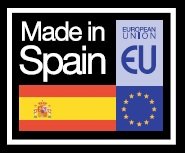 3-in-1 Beauty Set * Cleansing * Exfoliant * Facial Mask
Moisturizer * Regenerator * Restores Elasticity
Performance enhanced with Retinol, Vitamins, Aloe Vera, and Rosehip
Restores skin's luminosity * Rejuvenates the skin
Made in Spain * Unisex * Oil Free * All Skin Types * Weekly Use